Tom and Marg's Grey Nomad Trip
Part 5
Erldunda to Alice Springs. 199kms
After a stopover in Stuart Wells…where I spent $24.50 for Marg to use the loo (haha) we finally made it to Alice Springs .I had another GF find at Stuart Wells of all places. The shop sold GF pies and sausage rolls. So I bought a couple. Again an uneventful trip other than three magnificent wedge tailed eagles devouring their roadkill. I'm still annoyed I didn't stop and take a photo as they were oblivious to passing traffic and were quite happy tucking into their prey. I'm sure Flo and Denis would have stopped and I was going to pinch her photo…she did see them but didn't stop.
We decided to do the CBD heritage walking tour after visiting the information centre. Including the John Flynn Memorial Church, The Residency (built in 1927 to house the first Govt resident of central Australia, John Charles Cawood) and Old Stuart Town Goal.
An essential stopover was the local Coles. We had just about run out of supplies. Coles in Alice Springs was surprisingly large and stocked everything anywhere else has and at the same prices….so it was a pleasant surprise to come our feeling you'd spent similar to what you would everyday at home.
Our big treat for tea was going to be roast chicken and lots of roast veges. The first in three weeks. The Baby Q weber came out of the back of the car for the first time and all was on target for a great meal with my bottle of red and Marg's Sav blanc( our first in two weeks)
Michael and Sandra ( Melb-who we met in Port Augusta) happened to be 2 sites away and came over for a chat and drink. They left as Colin and Marlene (Moolap, Geelong-who we met at Yulara) dropped over from the Big 4 CP next door…with drinks. We then invited Flo and Denis( Gawler, Adelaide-who have stopped at every stop we have at the same time since Woomera) Needless to say we ate our chicken and roast veges in front of them about 9.00pm. Caravanning is a fantastic way of meeting new people and making new friends…some that last a lifetime. We have organised to go out for dinner tomorrow night at the local pub. Special note to the Fab 8…don't worry, we're not replacing you….only while we're on holidays.
Kettle shorted out the van a couple of times. Into the rubbish bin it went and we splashed out on a new kettle from Woolies for $27.
A stop at John Flynn's memorial gives you a sense that this man was instrumental in shaping communication throughout the NT.
Did a quick run to the West Macdonnell Ranges today to Simpson's Gap and Stanley Chasm. (100km return)
The short walk to Simpson's Gap was flat and easy. Well worth the trip in as the water hole and views were a Kodak moment.
Stanley Chasm turned out to be another thrill as we changed into our mountain goat costumes and scaled the very rocky paths of the first part of the Larapinta Trail. We started off doing the easy walk to the chasm but decided to detour and take the trail for "experienced" climbers to the lookout. What were we thinking but really glad we did as we saw fantastic views across the valley that you don't see on the ground. Unfortunately, this 1 hour detour meant we were 10 minutes late to see the full effect of the midday sun hitting both walls of the Chasm. What we did see was still great.
On the way home we stopped at the School of the Air visitors centre. Bascially gave a $22 donation to see a video, watch a teacher through a screen talking to 4 students on remote stations and browse the shop. A bit disappointing. We think we expected a bit more interaction and involvement with the staff. On the other hand the whole program is amazing and relies heavily on government funding to keep it going.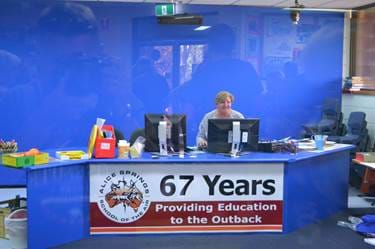 We'd arranged for the shuttle bus to pick us up from outside our caravan park and take us to The Gillen Club (similar to our RSL). It was the last night Marlene and Colin would be in Alice so the 6 of us (including Flo and Denis) spent a nice evening catching up again and saying goodbye again. We will probably catch up with Colin and Marlene again in Darwin. Sad to say I lost my $10 limit on the pokies quite quickly. I'm sure machines in NT are rigged.
No red dirt or long walks today. We spent the day in town exploring some of the local tourist attractions.
Royal Flying Doctor Service
The National Pioneer Women's Hall of Fame Inc and The Old Goal
Araluen Cultural Precinct
Anzac Hill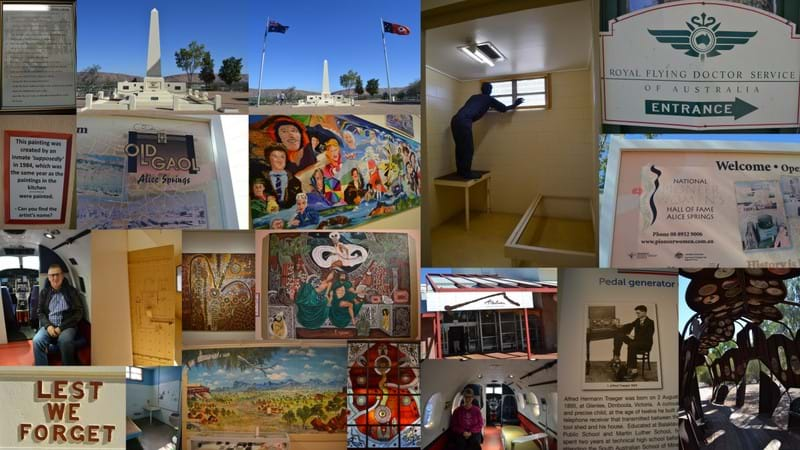 We found it interesting that Sir John Flynn (a legend in the outback) was born in Moliagul in Victoria(near Bendigo) and Alfred Traegar (invented the Pedal Generator, enabling instant communication between remote outback areas and essential in the early days of the RFDS) was born in Glenlee, near Dimboola, Victoria. The RFDS costs $340million to run each year. A visit to the RFDS was an eye opening experience to see how the service reached so many over such a huge area.
Another enlightening experience was a visit to The National Pioneer Women's Hall of Fame which is now housed in the Old Goal and Labour Prison.(closed 1996) Everyone said you need 3 hours to do justice to the exhibition. To be honest I didn't look forward to spending so long on my feet reading all that I envisioned. As usual I was wrong. After a brief intro by our volunteer guide we did a self guided tour through the various areas on display. These included, The Women at Heart and Ordinary Women leading extraordinary lives, The Women's Block and The Men's Block. The exhibition does a fantastic job of celebrating the pioneering women of Australia as well as the achievements of Australian women who were first in their field, as well as tell the stories of the Old Alice Springs Gaol. We spent 90 minutes and could have stayed longer.
The Araluen Cultural Precinct was a quick visit as a few of the areas were closed. The Art Galleries were well worth a visit as we saw some amazing indigenous paintings.
After dropping Marg to' Our Lady of the Sacred Heart' for Mass I drove back up Anzac Hill as the sun was about to set. I vowed I would never go to another sunset after Uluru.
Tomorrow we plan to go to the local Todd Street Mall Market where we hope to pick up an aboriginal original. I'll let you know how we go.
22oC today with 2oC overnight. Had our electric blanket on. We moved north to get warmer weather and what have we got. Thought we'd be swimming by now.
Todd Street Mall Market was similar to most other markets. Lots of vendors with hand made products. All very interesting. We did manage to purchase a painting which we are very happy with. As well as the stall holders a number of aboriginal painters bring their paintings and lay them on the grass area alongside the Mall. People can then go along and make an offer. I asked Annie how much she wanted and after a bit of time we accepted her offer. Not sure that's the way it works but when you consider the time taken to do one of these dot paintings the labour and skill is extraordinary. Similar paintings in the galleries are priced a lot higher. Apparently Annie Nelson is a well-known and respected Alice Springs artist. She has a number of paintings in galleries. I think we got a bargain.
Annie Nelson from Yuendumu with, "Patterns of the Desert"
The Telegraph Station
Built in 1871 the Telegraph Station was an important link to communication in outback Australia, Darwin to Alice Springs and the world, especially Britain. After the station closed it was used to house labour teams during WW2 and it later was a welfare home for Aboriginal children of mixed ancestry until 1963. These children were known around here as The Bungalo Children, also as 'the Stolen Generation."
After looking at all the out buildings we walked the Trig trail to the Cemetery. (about 2 kms) Only 5 graves, 3 unknown but 2 with headstones, Ernie Bradshaw (died 1901 of Tuberculosis at 27) and Ernest Flint (died 1887 of Rheumatic Fever at 33)
Filled up with Diesel again. $155.9cL Travelled 3,752 kms. L/100km = 12.50L-14.93L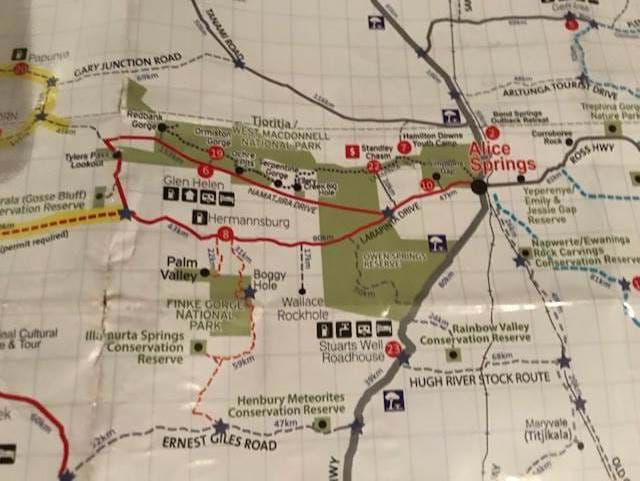 Big trip today. Left Alice Springs for Hermannsburg at 8.00am, did the loop (marked in red) visiting some spectacular gorges, arriving home at 6.00pm after 397 kms. And many more walking kms clocked up.
The Hermannsburg Historic Precinct was the first aboriginal mission in the NT, established by the Lutheran church in 1877. We did a self guided tour which was very interesting. Isolation meant the mission had to be practically self reliant. Would you believe, as we pulled up outside our good friend Phillip E rang asking, "where the bloody hell are you?" When I explained we just driven to Hermannsburg he said his Auntie Dawn worked there as a nurse in 1958. The reception lady had a register of all staff at the mission and we found her name….Elififfson D, 1958. Phil corrected the spelling as she was Ellifson, Dawn. The lady was very happy we were able to make the correction as it is only by word of mouth that records can be made more accurate.
Mess House and Ration store. The far end became a hospital. Phil's auntie would have worked in this building.
Hermannsburg Football Ground
Albert Namatjira was born at the mission. His house, he built just outside Hermannsburg was paid with from proceeds of selling his first 38 paintings at an exhibition in Melb (I think) The Brick monument is in recognition of him and the landscape that inspired so many of his works.