Tom and Marg's Grey Nomad Trip
Part 4
Sunday 6th May, 2018- Yulara/Ayers Rock Campground.
Our last day at Uluru. A lazy day as we start to think about packing up. After being on the go it was nice to stay for 6 days, put the awning out, mat down and have some nice days to sit outside.
Yesterday we went to a free theatre performance at the Mani-Mani Indigenous Cultural Theatre called, The Story of Walawuru, Kakalyalya and Kaanka. (The Eagle, Cockatoo and Crow) It was an amazing play using sound, lighting, 3D effects and acting by indigenous performers. It was a tale of love, jealousy and greed.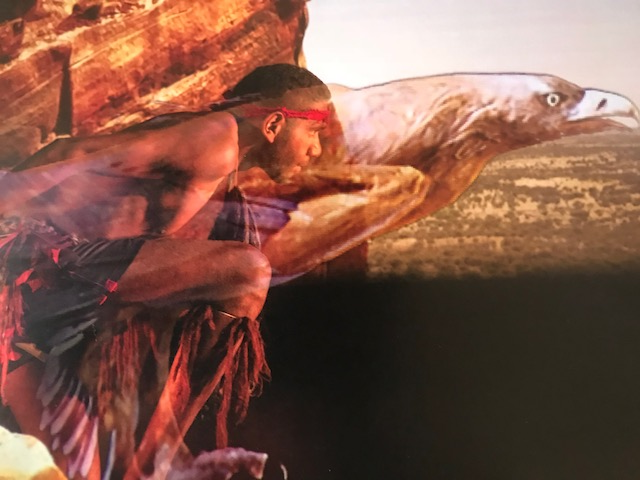 Walawuru, as he transforms into an Eagle
Field of Light. Everyone we spoke to before we set out said, "you must do The Field of Light. We've read so much about it…it will be amazing". Bruce Munroe, a British artist has created a spectacular field of light art installation. More than 50,000 slender stems crowned with frosted glass spheres bloom as darkness falls. We were able to follow pathways through the field. If we paid a lot more $ we could have spent more time there, had a meal, ridden a camel through but we were happy with the general pass to the area. It was pretty spectacular.
Filled up with Diesel at the Shell next door to the campground. (only station in Yulara)
Price $2069.0c/L (the highest yet) Average economy L/100km = 13.87L (helps that we haven't towed the van since last Tuesday) Total distance so far =2,696km Total L = 500.7 L Total cost of fuel = $780.49
PS. I have been asked why I include these details. Two reasons. These emails are going to form the basis of our photobook when we get back home. Hence, probably too many photos. ( for those who know me these photos are only a fraction of the ones I've actually taken) The other reason is there are some followers who are interested in doing a similar trip….so they appreciate the type of expenses they might be facing along the way.
Monday 7th May, 2018 Uluru to Kings Canyon 289 kms
Driving from Uluru to Kings Canyon you begin to realise that this country is so large. The roads go on forever and the ever changing countryside that we drive through is truly amazing and beautiful. At the same time we are getting used to the taste and smell of red dirt and the flies. It is so different from the beaches and coastlines we often visit. As Kenzie says, "You get what you get and you don't get upset". It is what it is, and remarkable to see. A visit to the Red Centre should be on everyone's bucket list.
After setting up camp at Kings Canyon Resort (not a bad view) we took a leisurely hours walk in Watarrka National Park (Kings Canyon) Kings Creek Walk (2 km) is a less strenuous walk than the one we are going to do tomorrow. This area is very different from Uluru. The valley obviously collects more rainfall to enable more varied plants and trees to survive. There are more animal and bird species here as well. At times we were the only ones on the track and you get a real sense of the beauty and solitude of the Australian outback.
Sunset from the back of our campsite. Tomorrow we tackle the Kings Canyon Rim walk. This walk has many steep sections (the first being 500 steps from the base to the rim.) It is recommended for reasonably fit and healthy walkers. We might start out thinking we are but let's see after 3 to 4 hours. There are stairs and boardwalks to make crossing safer in some sections( see photos)
Tuesday 8th May,2018 Kings Canyon
What a day's walk that was. Started out at 6.00am to see the sunrise over Kings Canyon, then started the rim walk at 7am. After climbing 500 stone steps we thought we'd done the hard section. Although it was difficult going the secret was to just plod on and take our time. Which we did, with regular water and snack stops. The path was very rocky, as you can see by the photos and you had to be careful not to slip or twist your ankle. Despite Marg's dicky foot she did very well. And considering her fear of heights and steep cliffs she did exceptionally well. My hips were feeling it towards the end. The publications say it is a breathtaking walk and it is in more ways than one, that gives you awesome views of the canyon floor. Amazing rock formations and varied plant life make every turn different. The walk was definitely not boring. We completed the whole walk, all 6 km in 3.5 hours. Not bad for 2 old farts.
Optus is the only mobile service at Kings Canyon. Telstra does not work hence no service and no wifi since last Monday.We'll have to wait until we get back to Erldunda to reconnect and reply to emails,messages, etc that we may have got. As Margie L says we are off the grid.
Change of plans.
Wednesday 9th May Erldunda 1 night stayover. Kings Canyon to Erldunda 276km
Thursday 10th May – Wednesday 16th May G'Day Mate CP Alice Springs. Instead of staying in the Ormiston Gorge area we have decided to do a day trip from Alice.
All the best to everyone!