Tom and Marg's Grey Nomad Trip
Part 3
1st May 2018 Erldundra to Ayers Rock Resort-Yulara. 272 Kms
On the way to Uluru we passed by Mt Ebenezer Roadhouse. I didn't realise that Mt E is owned by the nearby local Aboriginal community and all profits go back into the community.
139km along the Lasseter Hwy we came to the Mt Connor Lookout……..Fooluru!!!!!!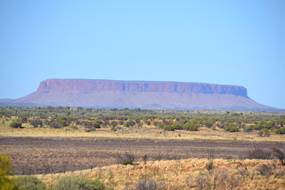 Everyone thinks this is Ayers rock. It certainly looks like it
We stopped at Curtain Springs for a cuppa….stood outside this time as no flies. Met up with a fellow traveller as we all seem to stop at the same time. He is from South Africa travelling on his own, but meeting cousins from New Zealand from time to time. Our mates, Denis and Flo weren't far behind us and as we finished setting up at Yulara Resort Campground they pulled in a few sites away. Met Colin and Marlene behind us from Geelong. Booked in for 6 nights. $192
Went to Wintjiri Arts and Museum. Our aboriginal guide introduced us to the local history, culture, Anangu land conservation and management practices. Lots and Lots of indigenous paintings to choose from if that is your thing.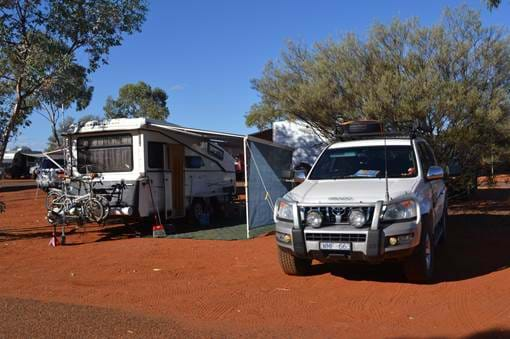 Spent the rest of the day at the supermarket, going to the visitors centre and then trying to work out how to fit everything into 4 days. You have to buy a Park Pass to be able to enter the National park. $25 each for three days, to be used consecutively. As we are here 6 days this could present a problem as don't want to buy 2 passes each. Fortunately guys up the road started talking to me and they are leaving tomorrow and had only used 2 days of their passes. As the cards have no ID on them they gave them to us, so things will work out. They were from Curlewis, near Drysdale/Clifton Springs, Bellarine Peninsula. They started talking to us because their good friends have an ecotourer like us. It's a small world.
we then had a rushed trip back to the supermarket as we noticed they had withdrawn the cost of our groceries x 2. They cost enough as it was without having to pay twice. Hopefully that will sort out. Pays to check.
Before tea had our first sunset sighting of the Rock. Happened to be 100 metres behind us up the top of a sand dune.
2nd May 2018 Yulara/Ayers Rock Resort
To get our bearings we visited the Cultural Centre first
We learnt about the ANANGU culture and traditional law guiding their culture. Despite lots of signage and marketing in tourist information we were surprised at the number of people who persisted in climbing the rock. Although a safety and wellbeing concern it is disappointing to the traditional owners as the rock is very sacred to them. Instead of a, "I climbed the Rock" signing book in the Cultural Centre there is now, "I did not climb the Rock" book, I'm sure if the "climbers" had visited the Cultural Centre before they climbed they would have had a greater appreciation of the significance of Uluru to the Anangu and respected their laws and cultures and chosen not to climb.
There is a free ranger guided MALA walk. Our guides, Justin and Paul met us at the base of the Rock and started to tell us the story of the Mala people, joint management of the park, rock art and spots (caves) of special significance to boys, girls, women and men. This was an easy walk, 2km return. Took us about 2 hours.
Another trip back into the park to see the sunset. Again a bit disappointing but we enjoyed the company of Colin and Marlene(from Moolap-Geelong) It seems they are doing a similar trip to us but have to be home mid- August.
3rd May 2018 Yulara/Ayers Rock Resort
Got up very early (5.30am) to travel 40 minutes to the Sunrise viewing area at Kata Tjuta (Olgas) Got there 6.45am. By 7.00am the viewing area was very crowded. Again a little disappointing as it was quite cloudy but we will keep trying. Off to the only toilet in the area and breakfast in the car.
There are two walks at Kata Tjuta.
Valley of the Winds. The Full circuit is 7.4 km and considered to be difficult. We were ambitious. Started off well, reached the first lookout and started towards the next one. If we were mountain goats we would have coped as the path was quite seep and extremely rocky and treacherous. I soldiered on but very soon realised Marg was nowhere to be seen behind me. She had stopped as she was afraid her foot would suffer due to the sharp rocks underfoot( remember she had the broken foot a few years back and still needs to be careful) We decided it wasn't worth the risk and made a retreat back to base. We probably did about 3 km of the 7.4. Not bad. Despite that we did see some beautiful views.
That was enough for one day. Back to our van for a restful afternoon.
PS. Checked my bank details and sure enough the supermarket managed to take double the money for our groceries from the other day. Things are dear enough here as it is without paying for them twice. This means a trip back to the supermarket tomorrow, find Sharon and get my money back. Again, it pays to check.
Tomorrow, our plan is to ride around the base of the Rock….only 10.6km. I'm hoping there's a coffee stop half way but I don't like my chances.
4th May 2018 Yulara/Ayers Rock Resort
Guess what? No coffee stops. Thought we were on holidays. Another 5.30am start. Off to the Talinguru Nyakunytjaku sunrise viewing area. We got there about 6.30am. Before too long the platform was 10 deep. I'm amazed at the large numbers of Japanese and Chinese tourists, especially young people. As the sun rose behind us I tried to take photos every 5 minutes so you could get the effect of changing light on the Rock. Not sure how they turned out (haven't looked at them yet) but being there certainly gives you stunning views of Kata Tjuta and the Rock and a wonderful appreciation of the ever changing landscape that photos cannot convey. At 7.00am it was freezing and we wished we had gloves and our beanies….left back in Bendigo.
After a quick cuppa and some bircher muesli in the car for breakfast we got the fold up bikes out and got ready for the 10+ km ride around Uluru. Took us 2 hours. More if we hadn't already visited the MalaWalk the other day. The temp today was only going to be 22degrees but we were happy we set out early (8.30am) as by the time we got back it was getting a bit warm, especially since I still had my track suit bottoms on.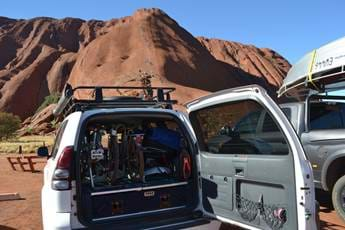 Fold up bikes fit neatly in the back of the Prado.
Home to do some washing and I managed to get in 2 hours grandpa nap.
Out again to see our last sunset. The sky is clear with lots of stars so we are hoping for a good viewing. We weren't disappointed. I managed to take shots every 10 minutes over a 90 minute period. Will be interesting to see the changes. We got talking to a lady from Menindee (travelling for 4 mths with 4 kids under 8, one 20mths old) in a camper trailer. There you go Dan. Easy. She showed me how to use the time lapse function on my iphone. Might give it a try sometime. Her image of the changes over a 90 minute period showed as a video in about 30 seconds. Looked amazing.