Tom and Marg's Grey Nomad Trip
Part 1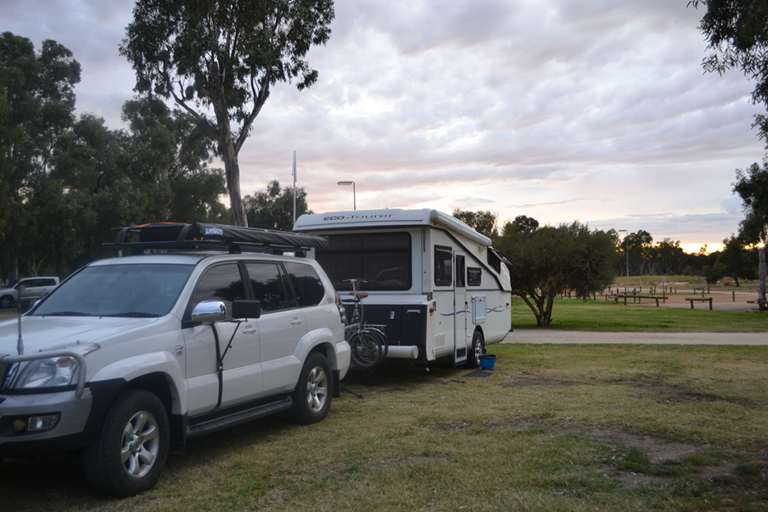 23/04/2018. Bendigo to Loxton. 540 km. Loxton Big 4 Caravan Park. 1 night $31.50 (mbers)
24/04/2018. Loxton to Port Augusta. 412 km. Port Augusta Discovery Parks (used to be Big 4) joined
Discovery Parks free as Big 4 mber.) 2 nights $63

Ok, here we go. After waiting 12 months for my shoulder to repair and still very little improvement we finally
set off on our grey nomad trip up the centre to the Top End, then to Broome and home via Tom Price,
Kalgoorlie and the Nullarbor. After many farewells by wonderful family and friends and adorable
grandchildren we made it to Loxton, just south of Renmark and then onto Port Augusta. Nothing remarkable
along the way. Burra, an historic town reminded us of Maldon and crossing the Murray on the Cadell Ferry was
different. Hopefully we will make the Anzac service tomorrow morning.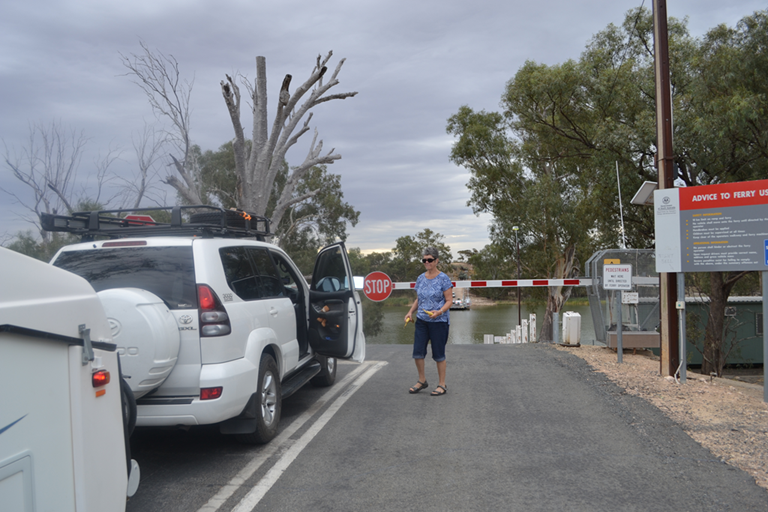 Drive through site at Loxton. Toyota Prado towing an Ecotourer van
Already we have had many phone calls and messages, notably from our children. Billy has the chicken pox.
(Parents are juggling days off hoping the other two escape….what are the chances?). Rachel and Shane's flat
flooded last Sunday due to washing machine hose explosion. They have had assessors in, carpets ripped up
and noisy drying machines in that seem to be terrifying James. I'm sure Granny just wants to turn around and
offer support. Hopefully things will work out, as I keep driving north.
Crossing the River Murray on the Cadell Ferry.
Meanwhile the highlights so far are:
Successfully managing nearly 1000 km without any dramas. Obviously all the preparation on the car and van has paid off.
Meeting fellow campers with lots of good ideas.
Having an alcohol free couple of days.
After Lunch in the park at Crystal Brooks Marg spotted a "Gluten Free Snitty's" sign outside the local butcher. Purchased 2 x GF Chicken Schnitzels freshly made. As I'm Coeliac if you see something out of the ordinary you buy….especially in out of the way places where you don't expect it.
25/04/2018 Anzac Day
Attended the ANZAC Day Commemorative Service in Gladstone Sq, Port Augusta.
Acknowledging the 103 rd anniversary of the ANZAC Landing at Gallipoli.
"The price of Liberty is Eternal Vigilance" Lest We Forget.
Filled up with diesel. $1.46 a litre. Apparently it's going to get to $1.96 further north.
Port Augusta RSL ANZAC Service
Visited the Australian Arid Lands Botanic Gardens.
An interesting collection of specialist and regional plants. Various walks to suit age and time. We did a small
30minute walk through the Explorers and Smart gardens.
Did you know that Matthew Flinders named the Flinders Ranges whilst standing on a cliff top not far from the
gardens site. From Red Cliff Top and Matthew Flinders Lookouts you get a great view of the Flinders Ranges.
View of Flinders Ranges from Red Cliff Top Lookout