Tom and Marg's Grey Nomad Trip
Part 8
Friday 25th May, 2018. Litchfield Tourist Park to Big 4 Howard Springs Holiday Park. Only 90kms.
Settled in next to Marlene and Colin, new friends from Geelong. The next three days went really quickly as we rested, washed most clothes, washed the car and van, shopped for groceries and mostly chilled out in the pool as the temps were mid 30's and humid. First time we started to experience the humidity and feeling hot and sticky/sweaty.
By Sunday Marg felt we were not doing anything. I felt we were…just not sight seeing. We needed a bit of a break after being on the go most of the time.
So….off we went to the Aviation Heritage Centre /Museum. Darwin has a rich WW2 history and it seems there are lots of attractions to visit. Not sure we will get to all of them…….these include the WW2 Oil Tunnels, East Point Military Reserve, Charles Darwin National Park, Darwin Military museum, Defence of Darwin Experience, Royal Flying Doctor Service and I'm sure there are more.
So far we have made it to:
Aviation Heritage Centre: Centrepiece was a real B-52 bomber. Did you know that Darwin was bombed more than Pearl Harbour?
Royal Flying Doctor Service and Military Museum: An amazing 3D virtual reality experience and a hologram presentation.
WW2 Oil Tunnels: These oil storage tunnels were not entirely successful during the war and were actually kept a secret until 1992. The only accessible one…out of 10 is now a tourist attraction.
We parked at Stokes Hill Wharf near the RFDS then rode our bikes all over Darwin Waterfront and BiCentennial Park. There was lots to see on the way. The Wave Lagoon, Outdoor Cinema, Lots of monuments in BiCentennial Park recognising the WW2 bombing, great views of the beach and Darwin Harbour, Government and Parliament House.
The Mindil Night Market. Sunday and Thursday nights from 4-9pm. 200 stalls with over 60 food stalls. The big attraction is the crowds that jam onto the beach to watch the amazing sunset.
Tom meets Felix. A very challenging experience. Everyone knows that I used to come out in sweats at the mere thought of a snake or looking at one in a book or on TV. Not sure what came over me but a spur of the moment decision and I said, 'I can do this." Marg's mouth fell open as I handed her the camera. It wasn't all that bad and after the guy told me I could breathe I didn't mind it. Felix's head did wander too close to my neck for my liking but his handler said he was attracted to heat and my neck was the warmest part of me. In that case Felix should have been fried. I was quietly proud that I was able to go through with it and should thank his handler for being super understanding and encouraging and not treating me like a complete idiot.
Still on the list and must do's …..apparently are:
Museum and Art Gallery…has a great Cyclone Tracey display.
George Brown Darwin Botanical Gardens
Parliament House…only open to the public on Wednesday. John says this is a must do.
Lunch time cruise on Darwin Harbour….(booked for Thursday May 31st with Colin and Marlene.)Tick
Lunch at Seafood on Cullen.
Seniors Lunch at the Casino. Tick
Parap and Nightcliff markets.
Catching up with Laura's mum, Di who is in Darwin for 5 weeks, working at the Steiner School.
Feed the Barramundi at Howard Springs…have to work out where to buy a packet of pilchers first.
Thinking about going to TiWi Islands but it's $90 Return each.
Go to Darwin Railway Station and watch The Ghan come in 5.30pm on a Tuesday night
Trip to Berry Springs (60km towards Adelaide River) and go to The Territory Wildlife Park, then to Berry Springs Nature Park to swim with the fish??? (Going with Colin and Marlene Wednesday May 30th) Tick
Organise a Lunch time wildlife and wetlands cruise at Corroboree Billabong to see the crocodiles, animal and birdlife. (booked for Monday June 11th)
Catch up with Jan and Rae when they arrive in Darwin on Tuesday 12th June. Going to meet them at Mindil Market on Thursday 14th.
Catch up with Skylar when she flies to Darwin for a school conference in a couple if weeks.
Wednesday 30th May. We (Colin, Marlene, Marg and I) spent the day at The Territory WildLife Park at Berry Springs. Everyone we spoke to said it was "a must" and it didn't disappoint. There are 400 hectares of natural bushland and you can view lots of wildlife in their natural habitat. Instead of walking (which you can do as there are over 6kms of walking trails) we took the shuttle train from station to station. The place was that interesting we were there for 5 hours. Presentations at most stations made the experience very enjoyable. And as Marg said, it was a pleasant change from all the war stuff.
On the way home Marg was determined to get some mango ice cream from Crazy Acres…a Mango farm. We chose wrong as the chocolate coated mango ice cream we got turned into mango water popsicle. Not what we were expecting.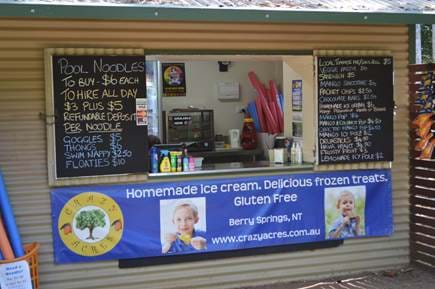 Darwin is a very easy place to relax in. It has plenty to do as you explore all the history. We love the waterfront area with its wave pool and coffee shops. Hopefully we'll have a go before we leave. It's very easy to get around and we're glad we bought our bikes as you get to ride into places you wouldn't normally get to by driving. We are able to park in free parking and the ride off into the sunset, so to speak. Of course the weather is a lot warmer than down south. So far we have only had a couple of humid days but I'm sure more are to come. The Markets are similar to ours with similar food and craft stalls. The crafts do reflect the area and Marg feels they are heavily influenced by Indonesian culture.
People are very friendly and willing to help whenever. Of course there are a lot of grey nomads here and I suspect more to come. Everywhere we go the locals say we are early and the onslaught is about to arrive. We don't mind as it means we have never had an issue with getting caravan sites or finding the attractions too crowded. After Crazy Acres we took a quick detour to the Berry Springs Nature Park where the much advertised Springs and water pools are ….and a possible swim but saw us leave not long after we got there as Marg refused to swim in them. Nothing to do with crocodiles, although I'm sure they were in her thoughts.
It's a little difficult to see in the pic but evidence of the impact of the cyclone a couple of months ago is everywhere. The clean up has been massive and is still underway in all affected areas.
Thursday 31st May, 2018. We have been in Darwin a week today. That was a quick week.
Colin, Marlene, Marg and I had an enjoyable cruise on the Darwin Harbour. It was interesting to view all the landmarks we saw the other day whilst riding our bikes from a different angle. The commentary was also great as we got to hear stories and history of the area. We then headed off to the Casino…SkyView for a $12 Seniors lunch. Of course I tried to win my lunch cost back but I'm convinced the pokies in NT are rigged.
Parliament House. The locals call it The Wedding Cake and nicknamed it" The Fruit Cake" coz it's full of fruit and nuts.