Tom and Marg's Grey Nomad Trip
Part 7
23rd May, 2018. Adelaide River to Litchfield Tourist Park 56 kms
Filled up again with Diesel. At United in Adelaide River. Cheapest so far since we left home. 149.5cL
A quick run over the other side of the Stuart Highway through Bachelor to Litchfield Tourist Park. A little shocked when they charged $38 a night. Forget to use our 10pc discount from the Park brochure. Would have lessened the pain a little. Silly me.
Forgot to mention that Douglas Daly Hot Springs have been closed for swimming for a while as they are still trying to clear away some crocodiles. Got to Bachelor and the Visitor centre said the same about Wangi Falls. Closed for swimming but still opened for viewing. There are still plenty of water holes or plunge pools to explore.
After we settled in we decided to visit;
The Magnetic Termite Mounds. After reading all the info about these little critters we have a new found respect for them. Their engineering, positioning and sheer determination to build something so huge has to be admired.
Then we had to walk back to Florence Falls (3 km in all…that's our exercise for the day)
Florence Falls has a great lookout at the top. We had to walk down 135 steps to the bottom pool. The pool is amazing and we had a great swim. Should have taken our noodles with us. Completely different from Buley Rockpools. Unfortunately we then had to walk back up the 135 steps. That was our strength training for the day.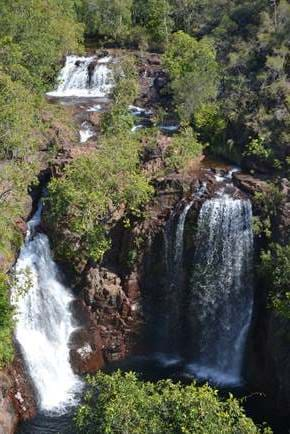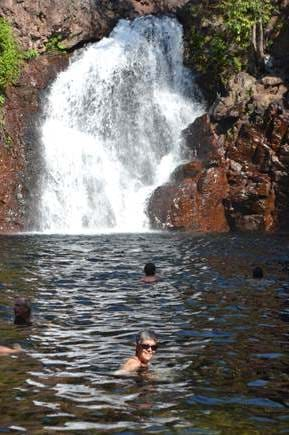 Also forgot to mention that each Monday we have a weigh in. My aim is to lose 1 kilo per month we are away. Not sure what Marg's is…she won't tell me. I lost 2.5 in the first 2 weeks. (lots of walking and no alcohol) Unfortunately a little has gone back on…..birthday celebrations and a little bit of red wine???? Now that's over, back to serious training. LOL.
Started our day, Thursday 24th May at Walkers Creek, 63 kms away. A great place to walk (3.5km return) with lots of swimming opportunities along the way. Of course we went to the end of the track where the best plunge pool was. Only one other couple there so was very quiet and peaceful.
Wangi Falls for lunch and a short walk to the spectacular falls. Unfortunately swimming was banned as the water level was too high which means a stronger current as well as a high possibility of crocodiles. Wangi Falls is the most popular visitor attraction due to the scenery, a local cafe and easy walking.
Our last stop for the day was Tomer Falls. An impressive waterfall with a viewing platform from the top. Very easy to get to…only 800 meters from the carpark.
That's our last day in Litchfield Park. Off to Darwin tomorrow. In all spectacular scenery and walks. Very happy we came here, although we were never going to go past, being Marg's hometown namesake. Booked into Howard Springs Caravan Park for 3 weeks. Will be nice to stay in one place for more than 2 or 3 days.
Will send this as the next TripNotes will be the start of our Darwin experience.