Tom and Marg's Grey Nomad Trip
Part 6
16th May, 2018. Alice Springs to Wauchope 416 kms
On the way Marg got very excited as we crossed the tropic of Capricorn. All her nightmares came home to roost as she remembered her yearly attempts to teach longitude and latitude. Thank heavens for Jan B.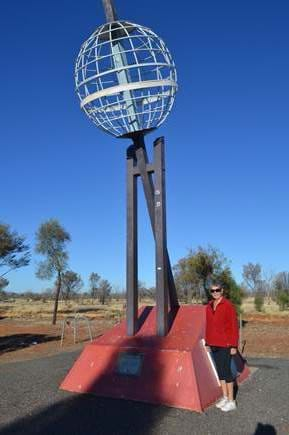 We made Barrow Creek our cuppa stop. Would you believe we pulled in beside another ET. They had just come from Tennant Creek and were on their way to Alice Springs. It was interesting to compare the off road model with our highway model.
Stayed at Devils Marbles/Wauchope Hotel CP for the night. Pleasantly surprised with this gem in the middle of no where. All camp sites full by 4.00pm. The Hotel, Beer garden and pool were all very inviting. We made use of the Bar but it was still a bit cold for the pool
We bought our first bottles of wine since we left home. NT has very tight restrictions on what you can buy. At the moment I could only get 2 bottles of wine(between 3pm -10pm) My licence was scanned to see if I was on a banned alcohol register. I can't buy any more wine whilst in this region for 36 hours(I think) If I leave the region I can. Marg could buy 2 bottles as well, surprisingly she came up clear on the banned register. At the moment there are new regulation's about to be implemented that make the restrictions a lot tighter. Naturally roadhouse managers and publicans are up in arms, saying it's killing the tourist trade.
17th May, 2018 Devils Marbles to Elliott 349 kms
Destination Elliott. Left 7.30am and arrived about 1.00pm. Nothing much to do on the way. The vegetation started changing and getting a bit thicker undergrowth than the previously red arid landscape, except for the vast expanses of termite mounds scattered throughout the countryside.
Filled up with Diesel again. $165.9 (Tennant Creek)
The purpose for stopping at Elliott was to say hello to our niece, Skylar. She has been teaching at the local school for the last three years. School goes to Year 9, then the kids have to go to Adelaide, Alice Springs or Darwin to boarding school. The school is well funded (remote) and has good resources.
We spent some time in a combined grade making dream catches. At 2.00pm we took a bus trip with Skylar as the driver to take all the little juniors home. They get dropped off at their homes in north and south camp. The parents must come to the door and wave to say they are home. Everyone gets picked up in the morning about 8.00am by a driver. If they are not at school by 10.00am an attendance officer (yellow shirt)goes looking and brings them to school. Their attendance rate is pretty good.
Skylar, with the help of the senior girls and us set out a double classroom with hundreds of second hand clothes. The girls club, STRONGER WOMEN were fundraising for their annual trip away. They hope to raise enough money to go to Darwin for a week.
Again the bus, driven by Principal Kevin (the school has 2 mini buses, one new) was used to pick up the parents from North and South camp. All items were $2. Most parents spent up to $100. Skylar says they don't get a chance to leave Elliott and shop.
Friday 18th May, 2018. Elliott to Mataranka Homestead 314 kms
After a pleasant evening (we free camped outside Skylar's unit) we again visited the kids the next morning. Skylar's classroom is amazing. As it was Friday only 4 kids had turned up at the start of class. 2 more ambled in about 9.30 and 10.00 after being rounded up by "yellow shirt".They spent the morning learning phonics….the new way???with amazing Skylar guiding them all the way.
As a treat we were allowed to bring them some presents….Bubbles and lollies. They each got a bubbles stick and Skylar got a bubbles gun. As it was windy outside the delight on their faces was infectious as they made and chased bubbles across the playground.
Another long haul to reach Mataranka homestead…(314kms)with thermal pools nearby. We did stop off at The Old Daly Waters pub. What an amazing place to visit, have lunch, a drink and a sticky beak at all the stuff on the ceiling and walls. The place was buzzing with nomads as caravans constantly came and went….a few families with kids as well.
Passed another ET as we were coming out…they were going in. Quite a few on the road…..becoming common.
After setting up we wanted to try out the thermal pools. Water was awesome. Glad we booked in for two nights. Waited around for happy hour between 6-7 and went down to the bar only to find out it was between 5-6.(thought 6-7 was a bit late) When I explained my mistake, the nice lady behind the bar said…."never mind…it's got to be 5.30 somewhere." And gave us our discounted drinks (didn't feel guilty at all…after all we are pensioners) Highlight of the night was a performance by Guinness world record holder whip cracking Nathan Griggs.
Mataranka Thermal Pool. Very warm.
Sunday 20th May, 2018
Topped up with Diesel again. The CP gives you a 5c discount voucher to use at the Mataranka United. 157.5cL brings it down to 152.5cL
After leaving Mataranka we decided to head for Edith Falls, north of Katherine. Stopped at Woolies in Katherine to stock up with groceries as probably won't be near a supermarket for the next week. Carpark with full of vans doing the same thing. We will stop in Katherine for a couple of days when we come back and head for Broome.Edith Falls is a magic place but and had a great water hole but we decided to continue on our way as it was too cold to swim….especially after the hot springs at Mataranka.
Spent the afternoon sorting ourselves out then headed to the station bar at 5.00pm. Marg met MiMi and a couple who gave us some good hints for looking around Litchfield National Park. Mount Bundy Station is still a small working cattle property but Scott(owner) has obviously hooked into the tourist trade as you experience a unique station (farm) stay. The whole station has a very rustic feel. Whilst the amenities are basic they still do the job.
Wandered around Adelaide River. Meant to be Monday morning market but we could only find 2 stalls in town and a few more at the railway museum. All pretty ordinary. The highlight of the morning was a visit to the World War 2 Cemetery. Adelaide River has a rich history of providing support to Darwin during the WW2 bombing raids. A lot of WW2 operations were centred in Adelaide River. Consequently many of the civilians and servicemen and women who tragically died are buried in this cemetery. The third largest war cemetery in Australia. Beautifully maintained by employed curators. Apparently these same curators maintain a smaller war cemetery in Wyndham, north of Kununurra. The railway museum was also interesting to look through to get an understanding of the importance of the railway during the war years.
Camp set up at Mt Bundy Station. Had a potential wheel leakage problem. Mentioned it to Scott (owner) and he said he'd look at it in the morning. Finally got to use my trail-mate jack after 5 years. Turned out to be a loose linkage around wheel drum( I have no idea if that is the right explanation) Took out a pin, rotated the nut a bit, replaced the pin and no more wheel wobbles and hopefully no more leakage. Cost –nil. What a great bloke.
Some of the animals at Mt Bundy Station. Some just wandering…others not
Tuesday 22nd May, 2018.
Birthday boy day. Woke up, not feeling any older than I was 21 years ago….haha. That was after I'd taken all my pills. Costs a lot to keep me going.
Decided to do a 220km roadtrip to Daly River today. Not sure what's there but had a day to fill in. Stopped at Robin Falls on the way. Surprised at how many campers there were free camping along the rough track to the falls. The walk (mountain goat hop) was pretty rough and tested Marg's foot again but we managed to get there after 30 minutes. Again, spectacular scenery. Then we had to walk back.
Then off to Daly River Crossing before lunch at Daly River Inn. Again all the staff were Overseas students who were trying to earn a $ to keep themselves afloat to continue exploring this great land of ours.
We were literally camped under this Banyan Tree. The Banyan Tree is a fig that grows on another plant. They not only provided shelter for the WW2 crew who worked on planes and used them as hoists to lift engines out of planes but they were also revered as sacred sites for the aboriginal tribes in the area.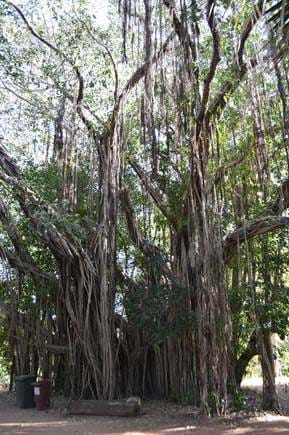 Scott at the park was able to make me a meat lovers gluten free pizza for dinner. With some red for me and sparkling for Marg we managed to enjoy a pleasant evening with 2 new friends from MacKay, Den, the resident muso, the local hotel dart team who were there to challenge the Mt Bundy Station crew. Thanks to all the messages and phones I received during the day. No matter where you are we can always find each other. Thanks for a special day.
That's all for now. Off to Litchfield National Park tomorrow for a few days before we make it to Darwin on Sunday….or before, depending on what's to do in The Park.