Pacific Assist - Tonga & Samoa
Improving Quality of Life for Disadvantaged Communities
The Principal Adviser of Frontier Financial group, Richard McLean, has always sought for ways to make a difference in the lives of others. In business, He and the team at Frontier Financial Group work to create the highest quality of life for their clients. Like most of us, Richard is aware that there are many individuals and families in the world who lack the basic opportunities and resources to reach even their most modest goals and aspirations. It is for this reason that he has partnered with his brother John McLean to form the not-for-profit charity Pacific Assist. Through Pacific Assist, Richard and John seek to assist significantly disadvantaged individuals, families, and communities within Australia and the South Pacific to become emotionally, physically, economically, and educationally self-reliant.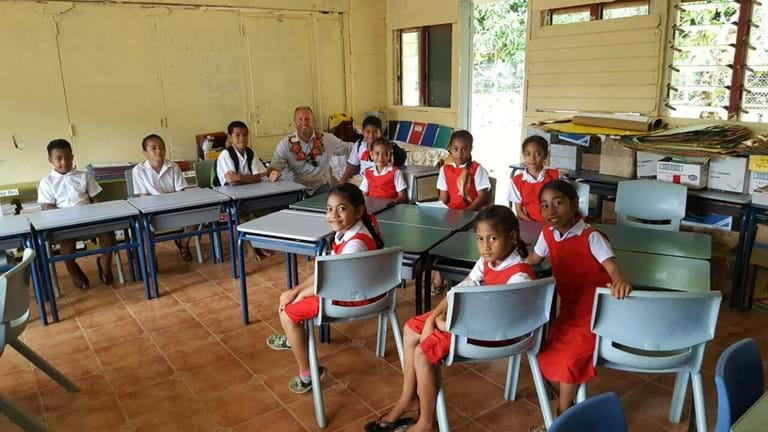 Originally founded by John as 'Furniture for Schools' in New Zealand, Pacific Assist has delivered sixty shipping containers of donated high quality second hand desks and chairs to islands such as Tonga and Samoa. In June of this year Pacific Assist collected and distributed a shipping container load of donated office furniture from Sydney to the Tongan Department of Education. Between December and January, with support from local schools and various parties, Pacific Assist will send three more shipping containers with desks, chairs, and other school furniture donated by Melbourne schools [1] to needy school children in the island of Vanuatu. At Frontier Financial Group we love what our clients and others do for our kids through education in our community. Pacific Assist is another way we can help support the wider community in education.
In 2018 Pacific Assist is expanding its focus to include education, health and well-being, economic development, and humanitarian projects. Pacific Assist is currently bringing together resources and expertise to implement a principal mentoring program in Vanuatu. Richard also plans to travel to Papua New Guinea in December to meet with government officials and community leaders to discuss potential Pacific Assist projects. "At the end of the day," says Richard, "the biggest reward is seeing smiles on the faces of the recipients, and knowing you have made the quality of their life a little better."
[1] We gratefully acknowledge the generous donations of the following schools: St Mark's Primary School (Fawkner); St Matthew's Primary School (Fawkner North); St Bernard's Primary School (East Coburg); St Johns Primary School (Clifton Hill); St Mary's Primary School (Thornbury); St Joseph's the Worker Primary School (Reservoir North); St Stephen's Primary School (Reservoir East); St John XXIII Primary School (Thomastown East); St Luke's Primary School (Lalor); St Joseph's Primary School (Mernda); Blackburn Primary School (Blackburn); The Lakes P-9 School ​(South Morang).